So the draw for the last 16 of this season's Champions League was made this morning and we've been paired with reigning champions Barcelona. Splendid.
Lionel Messi, Luis Suarez, Neymar and co will strut their stuff in north London on Tuesday, Febraury 23rd, before we head to Camp Nou for the return leg on Wednesday, March 16th. It's obviously the most difficult draw we could possibly have gotten and the Catalans will be huge favourites, but as we proved in the home leg of our tie in 2011, with a little luck, we can beat Barca.
Whether we can go to their ground and get a result is another matter, but we do have a far better team, in my opinion at least, than we did for the last couple of ties between the sides. That said, you could argue with the likes of Neymar and Suarez replacing David Villa and Pedro, they're improved too. Individually at least, if not, necessarily, collectively.
By the end of February, we should have the likes of Jack Wilshere and Danny Welbeck available too, perhaps one or both of Francis Coquelin and Santi Cazorla, and maybe even a shiny new recruit or two from the winter window, so who knows what our side will look like when we play the Catalans.
Anyway, regardless of what happens, it's always exciting to see how we fare against the very best the club game has to offer, and Barcelona are still some distance better than the next-best in Europe in my opinion – Bayern Munich. After that though, I'd put us at least on par with the rest of the continent's finest when we're fully fit, so if we can somehow conjure an aggregate win over Barcelona, who knows …
Back to  reality, and yesterday's game for now though, and a couple of our players have been to the official club site. First up, it's Olivier Giroud, who after opening the scoring with his 50th Premier League goal for the club from the penalty spot at Villa Park, told Arsenal Player:
I'm pleased with that (50 league goals for Arsenal) and I don't want to stop here. I tried to do a good job for my team-mates today and I did well with the penalty. I was the one who had to take it. We were very good on the counter-attack with Theo and Mesut and (got) another clean sheet, so it was a really good day. It is a fantastic week. We did a great job in the Champions League and we really wanted to finish the week with a win and to be top of league before Leicester's game against Chelsea. It is nice and hopefully we can have a great game against Manchester City on Monday. I'm very pleased with the performance today and we are in a great position and even if everything was not perfect, we had a lot of chances today which is good for me and the team.
For a little context, Giroud became the third-fastest Arsenal player to reach half a century of Premier League goals for the club behind only Thierry Henry and Ian Wright, having achieved the feat in one game fewer than Dennis Bergkamp managed to: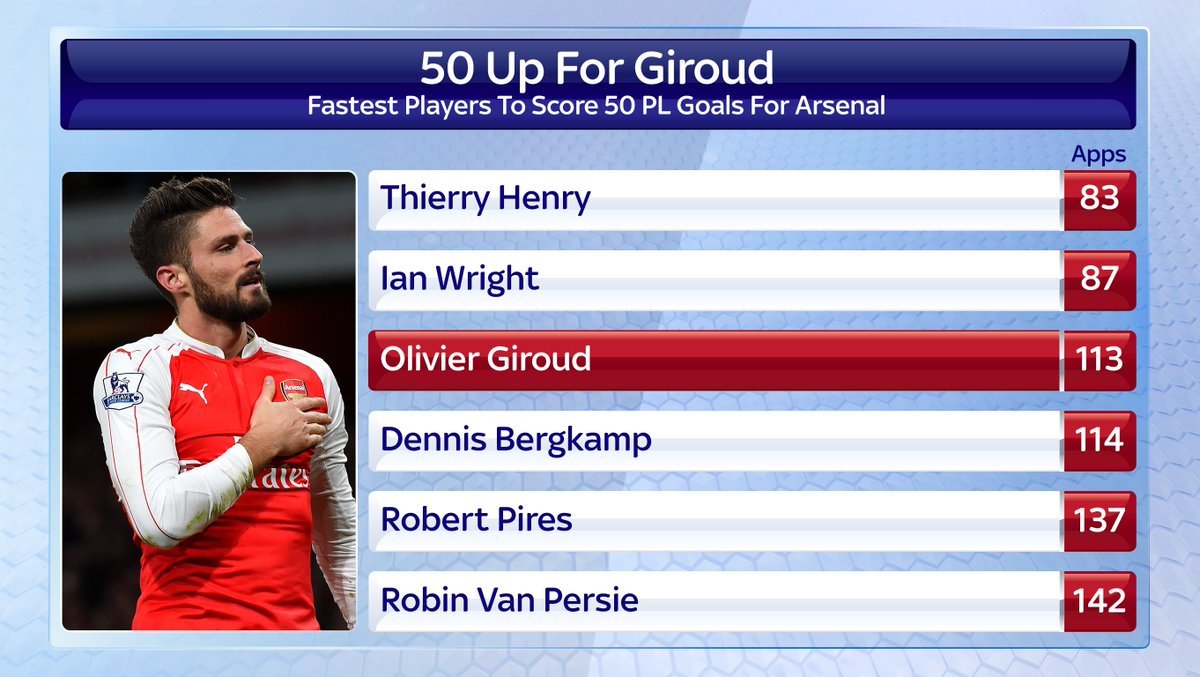 So the Frenchman's in pretty good company (except for the turncoat at the bottom there), even if he took considerably more games to get to the 50-mark than messrs Wright and Henry.
Meanwhile, Aaron Ramsey, who sourced and scored our second against against Villa on Sunday, has been discussing being top of the table, and his return to his favoured central midfield position, telling Arsenal Player:
It was nice to be top of the league – maybe for a short period of time – it puts a bit of pressure on other teams. But it's a busy period and we have to remain consistent through that and see where we are in the new year. I believe there are a lot more teams now capable of taking points off each other. We've been shown that this season with some of the results. But it's important for us to look after ourselves and get through this busy period and see where we are in January. I'm really enjoying it (playing centrally). That's where I feel I play my best football and can have an effect on the game. I've scored a couple and had a couple of assists as well in the three games I've played there. So I'm delighted with the way things are going in there, hopefully I can continue to do well there.
It's hard to argue that Ramsey is at his best in the middle but whether Arsenal are at their best as a team with him there is another matter. Whilst it's great to have the Welshman's energy and goal-threat in the middle, we undoubtedly have less control and poorer ball-circulation compared to when Cazorla plays there. and against the better teams, my fear is that we'll rue not having our little Spaniard fit and available.
A specialist defensive midfielder who can also distribute the ball like Santi would be the ideal type to partner Aaron, but who that player is and whether we can find and sign him in the January market is fanciful, if he even exists. We need a Sergio Busquets with pace, a Mikel Arteta who can run, an Andrea Pirlo who can defend. Suggestions on a postcard addressed to Highbury House or London Colney …
And that's that for another day. See you tomorrow.